by Erin Braun
The Done in A Day (DIAD) committee's first event entailed volunteering at the Silent Witness Unveiling Ceremony on October 9, at the Franciscan Center in Sylvania.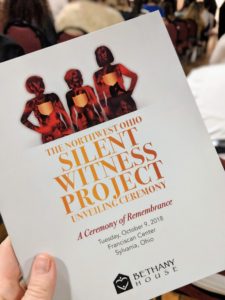 I first heard of the Silent Witness project when I was in college in the 90s—my mom, Terri Braun, was on the Junior League committee that brought this project to the area. I came home from school one summer to find the garage full of red silhouettes with gold shields. It was startling to walk into, and even more so when I heard what they represented—a life taken at the hands of an intimate partner.
Those figures stayed with me when I went back to school and inspired an intro on a speech about domestic violence. It was 60 seconds of an awkward silence, not to mention an entire class staring and waiting for me to start, but I said nothing. My intent was to make them uncomfortable (I certainly was), and to illustrate that during that time, someone's mother, sister or friend had been physically abused. Approximately 20 people to be exact, according to the National Coalition Against Domestic Violence (2018 data).
Those statistics and figures were one of the reasons I joined the Junior League almost 20 years later.
The night of the Unveiling Ceremony, I was almost as nervous as I was my junior year of college. As a reader, I was telling the story of a local woman my age—a name on one of those beautiful gold shields. Did I look presentable? I hoped I wouldn't stumble on the words. What if the media was there? Then I walked in and saw a table with pictures on it—memorial pictures of the women whose stories we were reading—and suddenly realized this wasn't about me. I sat down and started rereading the story of my silent witness, Tiffiney Mohn, and watched the people who were quietly filing in. Directly to my right, I noticed a woman sitting alone and wearing a pair of red, shiny heels. Others were huddled together in small groups talking quietly until the event started.
There were 54 volunteers that night, reading the fate of 54 silent witnesses and 22 co-victims (friends and family who also lost their lives in those acts of domestic violence). At then end of the readings, members of the audience had an opportunity to share their thoughts. An observation that was shared several times was how many of these women died around the time they were trying to leave their partner.
After everyone had left, the DIAD committee stayed to tuck the red silhouettes back in their black veils, carefully and reverently. The figures were stacked gently against the wall to be taken into different cars and back to the Bethany House. The committee also hosted a debriefing session at the home of Lyndsey Stough for anyone who wanted to talk about the Unveiling. That's when I learned more about the woman with the red, shiny heels from Sarah Aldesperger.
"When I was handing out programs, I saw a lady with really red high heels, and I commented that I really liked them. She stopped and told me that when she was in an abusive relationship, she wasn't allowed to wear red—that was one of the ways he controlled her. So, when she took him to court, she wore red to symbolize that she was free, and now she wears red at special events like this."
I hope she never has to wear red heels again, and that there will no longer be a need for more events like this to attend. Until then, the Junior League will continue to lend its support so symbolic red shoes and red silhouettes with gold shields are a thing of the past.